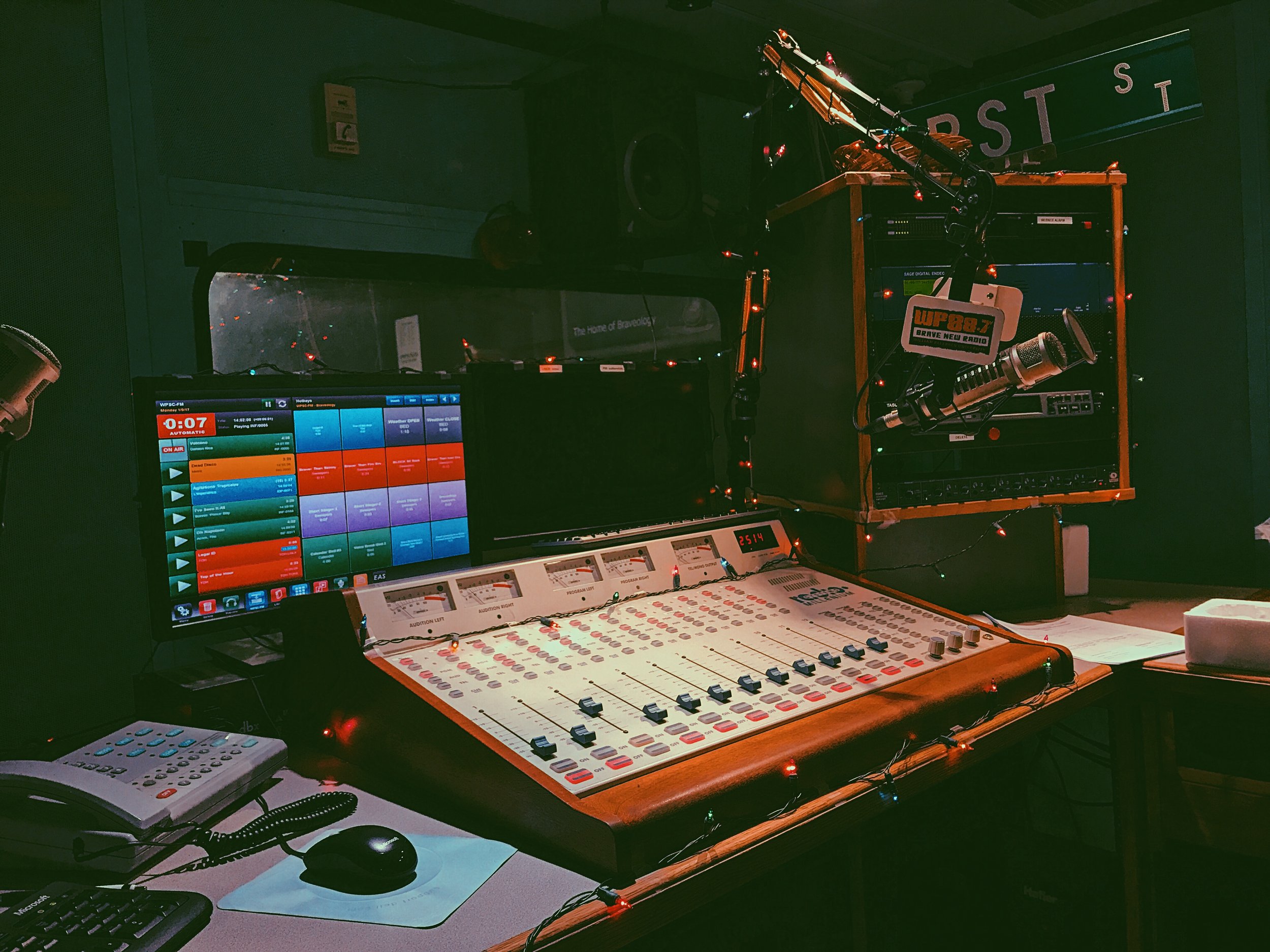 Programming
The Programming Department is the brain of the operation. Programming is responsible for the overall sound of the station, constantly listening and giving DJs feedback and managing our student staff team
He/She answers directly to the FCC by maintaining a Public File and following FCC guidelines for broadcasting. The Program Director schedules music, underwriting spots and other sound elements for each broadcast day. Additionally, the PD approves on-air guests and compiles a quarterly Program Information Report about the programming broadcast in the public interest. It is a position for highly motivated students with a track rate of professionalism.
Nick Gomez & Ashley Weltner
973.720.3333
wpscprogramming@wpunj.edu
music
Music is the heart & soul of who we are. Arguably the most important and most underappreciated department, Music is the biggest part of Brave New Radio's sound. Our Music Director charts the music we play with NACC and reports on the number of spins each record gets to promoters.
In addition to the Music Director, Brave New Radio has a Local Music Director and Hip-Hop Director who make sure we have a constant supply of fresh, new music to keep our listeners smitten with us. Any inquiries please forward to our music directors.
Mairead Mitru & Hannah Greve
973.720.2005
wpscmusic@wpunj.edu
Our Production Department creates the majority of our station imagery. Anytime you hear a station ID, a promo for a specific show or an instrumental track for DJs to talk over, that's the Production Department at work. Using industry standard equipment, the vocal talents of our wonderful DJs and a monstrous sound effects library, our Production Director is always churning out new sounds to get stuck in listeners' heads.
Bree Testa
973.720.3334
wpscproduction@wpunj.edu
news
Founded in 2008, the Brave New Radio news team is responsible for producing news audiocasts that run on 35 other radio station across the U.S. through syndication with USA News Network. Our newscasters are students with a strong voice for radio broadcasting. Newscasters know how to speak clear and precise. They are also familiar with current events.
Additionally, the News Department is responsible for the scheduling of Public Service Announcements, the production of original news packages and attending important University lectures and events to get the inside scoop.
Anchor positions are OPEN. Interested students please contact the News Director
Erika Schiller
973.720. 3331
wpscnews@wpunj.ed
sports
WPUNJ's Pioneer sports games are what the Sports Department lives and breathes. Each semester, our sports team members do live remote broadcasts of every important Pioneer game, home or away. Each broadcast gives you full play-by-play and color commentary, pre and post-game shows, and live interviews with coaches and players. Our sportscasters strive to be the premiere authorities on Pioneer sports.
Qualified students display an interest in sports, sports commentary and play-by-play.
Justin McHugh
973.720.3332
wpscsports@wpunj.edu
EVENT PROMOTIONS
Event Promotions is all about getting the word out. From running station contests, to giveaways at WPUNJ's student center, to doing live remote broadcasts from local businesses, Promotions might be the busiest department at Brave New Radio.
Staffed by station trainees and armed to the teeth with bumpers stickers, fliers and prizes, you'll no doubt catch the Promotions street team storming the campus and giving away prize packs at local music venues. Keep an eye out, and catch them if you can!
Intersted students must exert initiative, creativity, and leadership skills.
Sadelle Vespoli
973.720.2455
wpscpromotions@wpunj.edu
Web Director
The importance of social media within the larger realm of media and broadcast cannot be overstated. In addition to this website, we're on the socials! Knowledge in Twitter, Facebook and Instagram is a must. Getting in touch with Brave New Radio has never been easier! Whether you want to know what song just played or if you have a request or comment, we are listening!
Interested students must have a deep understanding of various social media platforms, takes initiative, and has great interpersonal skills.
Sebastian Escobar
973.720.2587
escobars3@wpunj.edu
Like our Events Promotions Department, Business Promotions (aka Underwriting) is out on the prowl, trying to form relationships with local businesses in Bergen, Passaic, Morris and Essex counties. Want to promote your business on our airwaves? Brave New Radio is where it's at. Want to donate used audio and video equipment, or unneeded office and music supplies? Food, water, couches, etc...? Business Promotions will take them!
Some people, (like former Business Promotions Directors) claim that this is the most important department, because without partnerships and sponsorships from local businesses, we'd be playing with dull record needles and drinking nothing but instant coffee! Business majors with a business acument and extrmee professionalism are highly recommended.
Chrstina Roofe
973.720.2099
wpscunderwriting@wpunj.edu
Visual/Marketing
The Visual/Marketing Director is in charge of the visual image of our station. Visual image? I thought this was radio! Well, yes. Brave New Radio is also expanding into a visual medium which allows students to expand his/her creation of visual marketing components and video production. The director creates compelling visual and promotional images and oversees video production projects. Experience in Adobe Photoshop, Illustrator, Premiere, Audition and similar platforms is required.
The position is currently OPEN
Interested students please send your inquiries to Station Manager Sebastian Escobar
Recruitment
Recruitment is our version of Human Resources. The Recruitment Director is responsible for hiring the talent of tomorrow. They hire, interview, and keep up with prospective trainees. They are essentially the friendly face our station!
Ryan Myers
973.720.2099
wpscrecruitment@wpunj.edu